The days melt into one another here in the Southwest. Temperatures are hitting triple digits many days. It's easy for tempers to flare, bodies to flag. Somedays I wonder what holds the center, keeping us from spinning off into lifelessness and the violence of our social division.

New Mexico, like much of the west is in the grip of a severe mega-drought. The specter of wildfires looms large. Pundits fight about 1st amendment rights to buy, sell and shoot off fireworks for the upcoming holiday. In a tinder box, may wiser head make decisions and common sense prevail. I love the mountains that I see from my backyard in Albuquerque every day. I pray for their protection. I do what I can to keep them safe.
As I drive down I-25, the withered and brown landscape passes me by on the highway. The ground looks strangled and pummeled from lack of moisture. I feel the distress in my own body. The Rio Grande, Great River, has become a series of sandbars. I grieve for the wild ones who ply their trade out in this weary and wasted landscape, sucked dry of moisture.
Happily we are moving towards opening up our society from COVID here in New Mexico and around the country. People's spirits are high amidst the heat, seeking comfort in outdoor activities and visiting restaurants again. Yet, the residual cloud still hangs over us all with no rain, the searing heat, the shrinking water supply.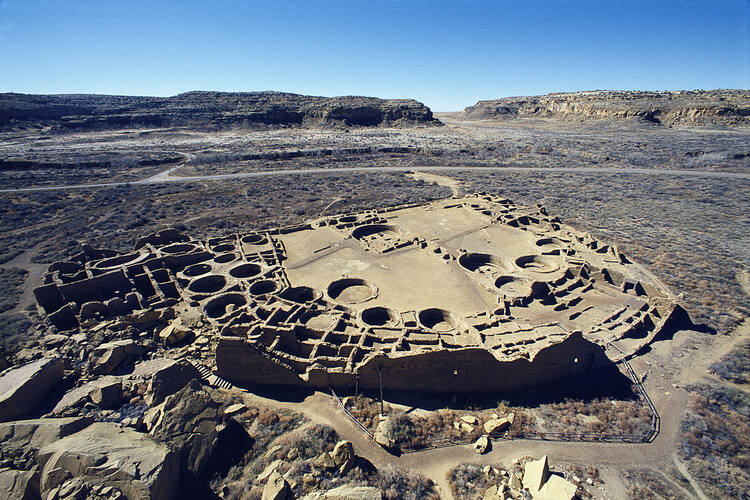 Chaco Culture (United States of America). retouched/Q.C. CWL8200 Scanner ©
I remember another civilization here in New Mexico. One of the most advanced of prehistoric, ancestral puebloan cultures—Chaco Canyon. According to historians this civilization peaked around AD 1020-1110. It was an amazing and complex center of trade, ceremony, political activity—"remarkable for their monumental public and ceremonial buildings and distinctive multi-storey "great houses." The sites were linked by an elaborate system of carefully engineered and constructed roads, many of which can still be traced. These achievements are particularly remarkable given the harsh environment of the region.It was abandoned at some point." (https://whc.unesco.org/en/list/353/)The people evaporated, leaving behind their homes and community gathering places, tools and artifacts. Historians believe it was due to another time of extreme drought. Did the people die? Or move on? We don't know. There is only speculation.
How do people survive mass crises in civilization, I wonder? Pandemics, climate chaos, economic collapse, personal health disasters…our culture faces massive challenges.
Recently I spent time with my inner sister circle here in Albuquerque. Having not seen them in person for at least the past 12-18 months, we were eager to share food and stories.
One particularly poignant story was shared by my storyteller, beekeeper friend who contracted COVID during the height of the panic. She was hospitalized. Her husband contracted COVID. We were all very worried. This time she shared more deeply about her time in the hospital. Her voice was thick with emotion, her fingers shook from the ongoing post traumatic stress that still makes that time so alive in her memory. She talked about spiraling down, down, down, into a very dark place, at the worst part of the disease, wondering if she would live to tell the story. She remembered having a conversation with COVID at that point. "WHAT IS IT YOU WANT TO TEACH ME?" she cried out. She heard, "love each other".
Sarah gave me permission to share her story. In a letter dated January 31, 2021, she wrote to friends and family, So where does this "universal love" solution fit in? If every one of us were willing to set aside our own personal experiences or biases as our guideposts, and look, instead, at the data and the big picture, and treat others as we would wish to be treated (the old "Golden Rule," "do unto others". A staple, I believe, of every major world religion), we could stop COVID in its tracks. It just takes universal love – caring for everyone just as we do for ourselves.
I believe Sarah's wisdom is important for all the massive challenges facing humankind and planet earth today. I wonder if the way some treat others in society shows contempt for how we love ourselves? Or is it an inflated false sense of ego and pride that masks fear that we really are not lovable? It's not easy to step outside all the traumas, the unloved places in ourselves, the anger and self righteousness, the self hatred. Mostly we're not even aware of all this baggage we lug around.
Recently I heard a re-telling of the story of the man with the mask by the playwright, Eugene O'Neil. In the story of a man and woman in relationship, the man says, "I'm wearing a mask" to his beloved. She says, "well, please take it off!" To which he responds, "If I take it off you will leave me." The woman replies, Take it off or we aren't in a real relationship."
In a great moment of existential risk and vulnerability, the man takes off the mask. Sure enough, the woman leaves. He puts the mask back on. She returns.
Are we ready to take our masks off and allow ourselves to really see "The Other"? To be seen ourselves? Without all the political posturing and inflated sense of self importance. Our society needs more humility.
If not, can our society survive? Without continuing to create the filial bonds of trust, kindness, inherent dignity and yes, even love? It takes courage to step outside our boxes.
I'll end with a love poem to you. Sit with it. Love yourself. Then step out and love others in the same way!
The time will come
when, with elation
you will greet yourself arriving
at your own door, in your own mirror
and each will smile at the other's welcome,

and say, sit here. Eat.
You will love again the stranger who was your self.
Give wine. Give bread. Give back your heart
to itself, to the stranger who has loved you

all your life, whom you ignored
for another, who knows you by heart.
Take down the love letters from the bookshelf,

the photographs, the desperate notes,
peel your own image from the mirror.
Sit. Feast on your life.

(Love after Love, by Derek Wolcott, 1930-2017: West Indian poet and dramatist who has lived most of his life in Trinidad)