It was 2008 and I was eager for my first Sabbatical. I flew to Ireland and met my friend there. We traveled to visit the sisters of St. Bridget at Kildare and the convent there associated with Abbess Bridget. We drove to sacred sites for the pagan woman known as Brigid or Bride—water wells in far flung rural, sheep inhabited areas.
I became entranced by the legend of St. Bridget, patroness saint of Ireland and still so alive in the Celtic Christian church today. Her story is rooted in the pagan hagiographies of anecdote and miracles. She was born to a woman who was a Pict slave, fathered by the Chieftain of Leinster—who owned her mother. When he was found out by his wife, the Chieftain Dubthach was forced to sell her to a Druid. It is the miserable, demeaning and cruel story of so many women throughout the ages. Bridget was born into slavery. Her mother was baptized by St. Patrick and became a follower of this new faith. As a young girl, Bridget became quite devout in her mother's faith. She grew into her healing powers, and the miracles abounded, so the legend goes. Her mission was to serve the poor, and she sought to feed them. At times it was to the annoyance of her mother—giving away an entire store of butter once. The supply was then replenished, according to Bridget's prayers. At 10 years old she was sent to her father, the Chieftain, as a servant. There her habit of charity led her to give away his household goods to anyone in need. Eventually she was introduced to the Bishop of Croghan and became a leader in the Celtic Christian movement, founding a women's monastery at Kildare. She became the Mother Abbess and Superior General of the monasteries of all Ireland over time. Today her monastery in Kildare continues to tend the eternal flame which was originally kept burning by her sisters.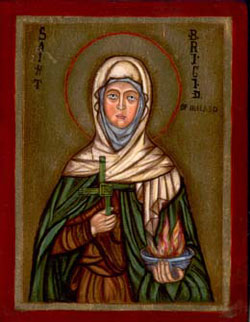 This February 1, the Christian church celebrates Candlemas, the Presentation of Jesus at the temple. How rarely do we understand that these Christian calendar days arose from the celebrations of the land based people whose life and work was oriented around the cycles and rhythms of the seasons, the moon, the sun. It is good to reconnect with these roots.

For land based Celts, this day was called the festival of Imbolc, the recognition of the New Moon. It marks the midway point between winter solstice and the spring equinox. Both auspicious in that one asks for rest from planting/harvesting and a ceasing of our work, a respite—while the other leads us into the newness of growth and springtime resurrection of the planet. We live in the tension.
From the Community of Findhorn in Scotland, this comes to remind me of how this day was originally aligned with the landscape and land based people who inhabited her wilds:
[On Imbolc]…it is believed that the Goddess Bride walks the land and underneath her feet the snow melts, the earth warms and the first flowers spring forth. In Ireland, Scotland and England Bride has been honoured at this time of year for many centuries. Her name varies slightly in different areas (eg. Bridget, Brigit, Brid). Many believe that she was loved so much that she found her way into Christianity as St Brigid, one of the patron saints of Ireland. As the goddess of birth she brings fertility to the land, animals and people. She is believed to bring the milk to the ewes before they give birth to the lambs. As the keeper of the flame she walks by our houses and blesses home, hearth and hearts with her warmth. She also protects waters and wells and blesses them with her healing powers. As one of the four Celtic fire festivals that mark the halfway points between the Solstices and Equinoxes, at Imbolc we celebrate the time from which the days are getting noticeably longer and the sun gains strength. The soil warms and life bursts forth, the first buds and shoots break through.

https://www.facebook.com/findhornfoundation/photos/a.10150440053916242/10158787005271242
Today I awoke to a snowstorm in the Middle Rio Grande. Unusual this dry year, pinched of moisture, suddenly the land is aswirl in snowflakes dancing. Big fat flakes dropping moisture on the earth. Here we are again. Between and betwixt one season and the other. Mother Nature never fails to surprise. On this secular "Groundhogs day", also based in ancient European lore, we watch a silly groundhog to see if we are facing more winter or less. Here in the U.S., Puxatawney Phil the groundhog decided to run back into his burrow rather than bask in the return of the sun. So on this Imbolc/New Moon, Candlemas day, Puxy Phil reminded us we are facing six more weeks of winter. Maybe he has been reading the farmers almanac.
This morning, I was also visited by a flock of cheery red-breasted robins, known as harbingers of Spring and new growth. They sat in droves outside my kitchen window, bunched up against the cold on the scarecrow tree branches, cocking their heads to hear my voice as I sang. For me, they were the epitome of this liminal space we occupy… preparing for spring, while still heeding winter's chill.
There are many little ceremonies or rituals that you can observe this weekend, as we live in this in-between time between winter and spring—in the soil around us and in our own hearts.
As Britta at Findhorn reminds us of the symbolic nature of this seasonal moment "….a time for the ritual sowing of the first seeds in our gardens and our hearts. A time of holding our dreams and intentions clearly before us and planting them into the nourishing environment of our hearts so the new gained warmth and light can help them grow. A time to gather together around a fire or light a candle by ourselves and visualise the new ways we want our lives to flow this year. Supported by the energies of spring and growth in the darkness of this potent new moon night let's visualise our dreams grow into the reality we desire."
Here's some soul tending activities to spur you on invariably towards that longed for resurrection of new life —Easter, another Christian holiday timed with the land based community's moon's cycle and the advent of Spring.
***Set your intentions/hopes and dreams for Spring. Write them down. Share them if you wish, with a friend.
***Plant seeds inside so they can begin to sprout. Enjoy watching them come to life!
***visit a well, river, lake or any body of water (or your backyard) near you and dip your hands in the waters—— give gratitude for the sacred waters and bring some back to bless your family, animals, home, yourself. Take a long bath or shower to wash away the old.
***Hold a candle light meditation or light a fire and invite your partner, family, friends to share and reflect on this day of the new moon, planting and seeding your intentions going forward.
***Remember Brigid's example of "giveaway". What can you giveaway, empty out of your household, declutter, as you prepare for Spring?
(thank you for these ideas, Britta at the Findhorn community!)
So even as we face six more weeks of winter, we are still invited on this day to observe this midway point between Winter and Spring, and prepare the metaphorical soil of our hearts and the soil of the good earth for new life and new beginnings.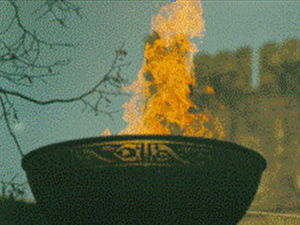 Eternal Flame of St. Bridget, Kildare, Ireland